All Content Copyright © 1990-1995 Kim Berry - All Rights Reserved
Contact Kim Berry
Kim's other music composition pages
[
Six Sigma - Detente (1997)
|
Kim Berry Songwriting (2011 - current)
]
Be Like LA
[I only have a cassette - need to get it to MP3]
This was my first song. I programmed a copy of "Ice Ice Baby" in Cakewalk then wrote some parody lyrics. It was amazing when the FM 102 "Morning Zoo" invited me to be in the studio around 8am when they aired it. I then showed up late for my job at QMA, and no one cared that "I was just on the radio." (Three-year old Stephanie was with me because I she rode to work with me and stayed at QMA's on-site daycare.)
Treadmill (1992)
[MP3 - right-click "save target as"]
MUSENET 1992 CD #2 LINER NOTE


"Treadmill" is techno-rap by Six Sigma. Six Sigma is written and performed by Kim Berry, who played keyboards in a local Sacramento band in 1982-84 and holds a BS in computer science. His intent is songwriting for airplay and for other recording artists and publishers. Primary equipment: Kawai K4, Quadraverb, Yamaha MT-100 4-track, Shure SM-849, dbx compressor, Cakewalk.
o In 1990 Kim wrote and recorded "Don't want to) Be Like LA," a parody of "Ice Ice Baby" which aired on KSFM-FM 102's Morning Zoo.
o In 1991 his song "Killer Bees" was selected for inclusion on a CD compilation which is distributed to 500 college radio stations. "Killer Bees" aired on KWOD-106's "Sound of Sacramento"
o Two of his songs, "High-technology High" and "Welfare Queen" appeared on "USENET-1991."
E-mail: kberry@sactoh0.SAC.CA.US (Kim Berry)
Killer Bees (1992)
[MP3 - right-click "save target as"]
Real Job (1991) - need to pull from cassette
I Want That Girl (1993) - need to pull from cassette
Global Pillage (1994)- need to pull from cassette
This is the sequenced version. I later did a studio version with band Chainsaw.
The following songs were composed and recorded using the ASR-10 sampler. This made a world of difference being able to sample vocals and trigger them rather than one-shot recording into one of the two remaining cassette tracks. The triggered vocals are apparent in favorite song "By The Rule."

"Holiday in Haiti" was built from samples of Bill Clinton's speech about Haiti. This style led to my next phase of "Six Sigma - Detente" where all song vocals were constructed from media samples.
PHOTOS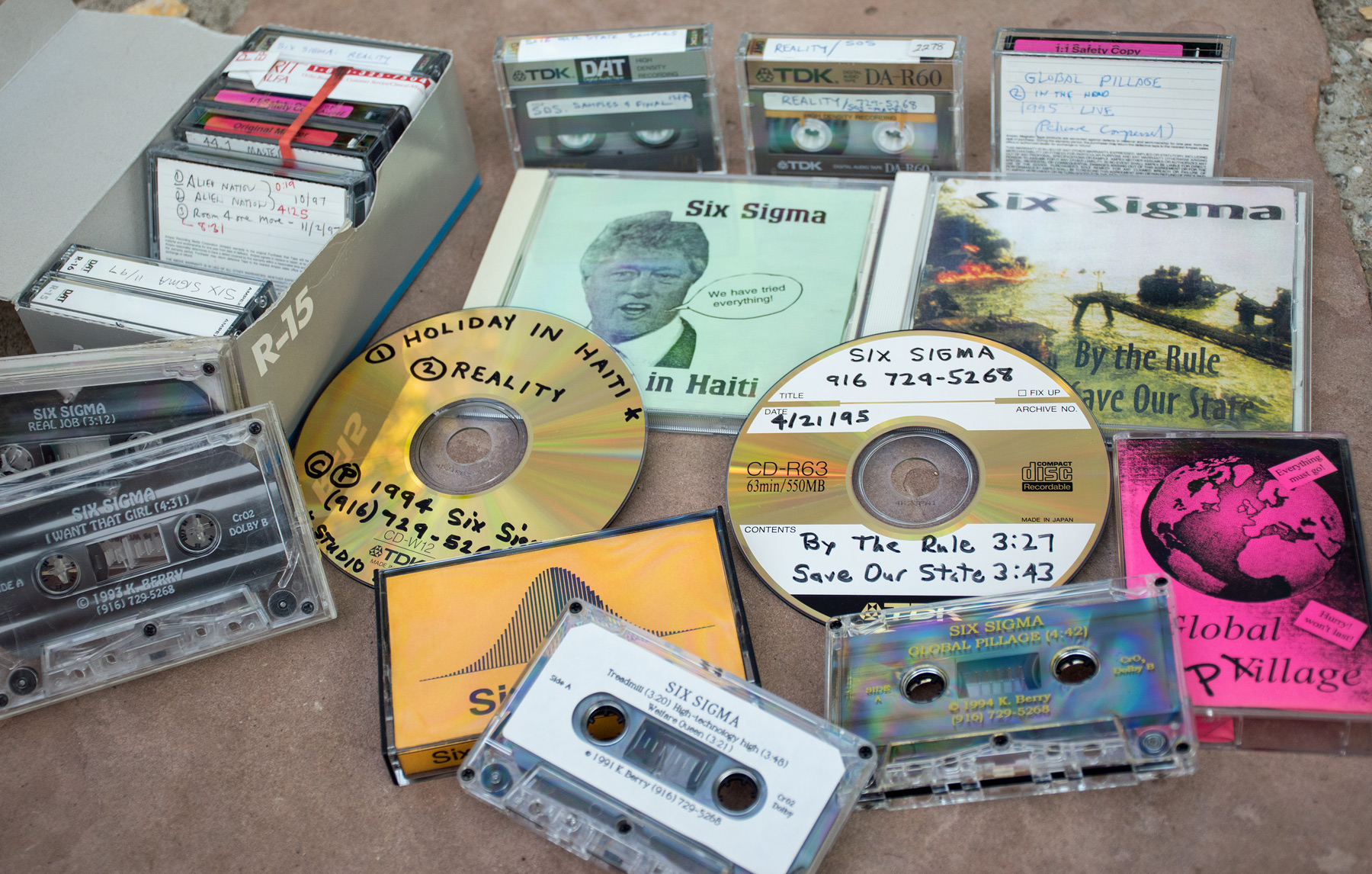 Six Sigma DAT masters, CDs, Cassettes
Six Sigma studio in 1994 showing all components.
The Kawai K4 - boxed to sell on Craigslist around 2010.
The Yamaha 4-track - I'm still using it today as a mixer - 26 years later!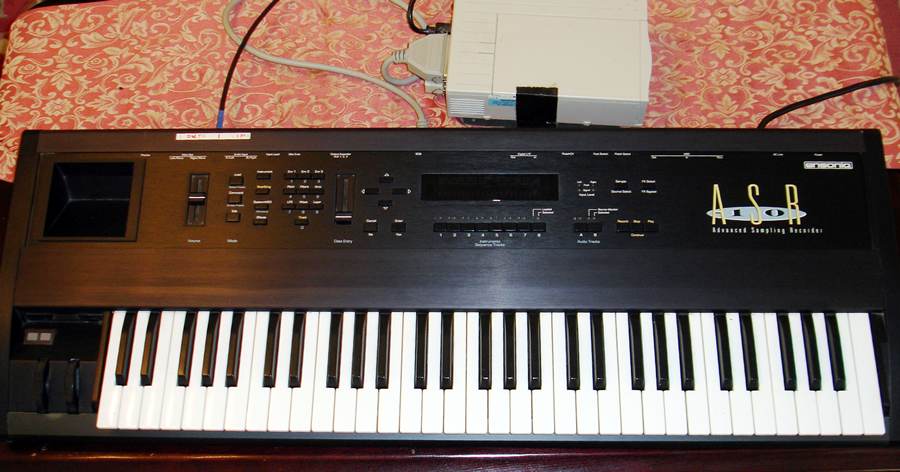 The Ensoniq ASR-10. It initially came with only a floppy drive which was clutsy saving several samples. It was complex but I learned to tweak each parameter of each note.
I had an Alesis stereo effects but it was not true stereo. So I upgraded to this Boss SE-50 (photo for sale on Craigslist) for the true dual channels so i could run the master mix through it en-route to the DAT recorder. It also had a Vocoder effect that can be heard on "Reality" and "By the Rule."

In the final songs I used a BBE to give the mix additional punch